Legendary Detroit Techno collective, Scan 7's 'Burdens Down' release from 2017 was a true testament to their brilliant ability to merge the soulful house textures with the analogue mechanics.
The addition of Maurice Jackson's outstanding vocal stylings topped off the original with a perfect human element.
Following the global success of the original version, Elypsia Records has enlisted some of the scene's top tastemakers to deliver a remix package worthy of the original, featuring that same calculated combination of soul and steel.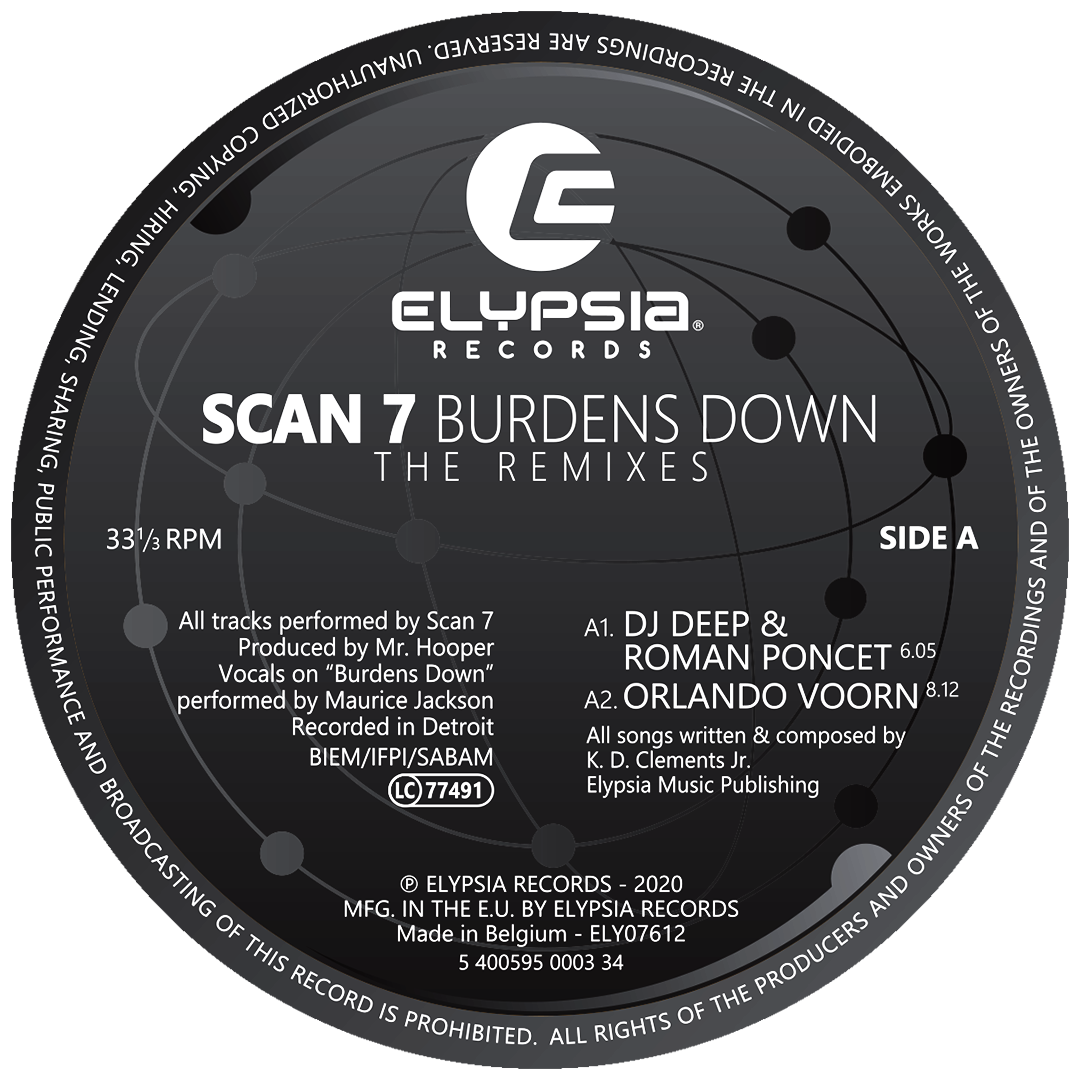 Leaders of the Parisian underground, DJ Deep & Roman Poncet, provide the first remix which is all about building incredible tension. A tightly squeezed kick drum, short synth chops and cleverly placed vocal samples drive the groove. As the track grows, additional hats and synths arrive, leading up to a quick break before all the floor-rocking energy bursts free. Big!

Dutch Techno legend Orlando Voorn steps up next for his first of two remixes, this one leaning towards a very House-centric shuffle with warm, friendly key stabs and the full use of Maurice's vocals. A truly joyful work of dance music magic here, with a relentless rhythmic drive keeping the party happening at full force.
Underground Resistance's very own Mark Flash takes the remix responsibilities for the B1 with his gorgeous synth-saturated rework of the original. An energetic and stomping kick drum powers perfectly alongside future-facing melodies which shine brightly on top of the tune. This one is guaranteed to serve as an earworm for days after the party has ended.

Rounding out the EP is the 2nd remix from Orlando Voorn, this time peering into the underground with a stripped back jackin' track utilizing a looped key melody on top of carefully placed vocal samples and claps. Some unexpected synths appear at the second half of the tune, putting a bit of new-age funk into the party stomper.